The change in shopping habits, the greater use of e-commerce, and many other factors show us that the interest in digital is increasing day by day. Especially with the coronavirus, this interest increased much faster and affected all sectors. Today, physical stores also need to be digitized, and brands are trying hard for this. Experiential retail stores, which was a topic that was talked a lot about before the pandemic, have great importance in the digitalization process of physical stores. So, what are the differences between the experiential retail store and the regular stores? Let's see together.
What is Experiential Retail Store?
Experience retail stores are a marketing strategy in physical retail stores to make the time spent by the customer in the store more meaningful and to increase the customer experience. In these stores, customers do not only have the opportunity to see but also experience the products.
In addition, they can see where the product they want is located and many things such as the features of that product through the mobile application. Experiential retail stores use advanced technology, in-store events, in-store specialty services, and knowledgeable staff to create in-store experiences. In other words, they combine the digital world with the real world. In addition, with experiential retail stores, you provide an opportunity for consumers to both visit your store and experience your products.
In Vend's article, it was mentioned that after the Covid-19 pandemic, a revival in physical retail is expected all over the world and that consumers are very eager to switch to stores after the home order period. At the same time, 72% of millennials prefer to spend their money on experiences rather than products, even though e-commerce has grown considerably and seems to be replacing physical retail stores. In other words, although the interest in e-commerce is still high in the post-pandemic period, there will be a return to physical stores. In addition, consumers will prefer to go to experiential retail stores rather than traditional retail stores.
Experiential retail stores have started to open in Turkey as well as in the rest of the world. Many brands such as Arçelik, DeFacto, Samsung, Turkcell, and Boyner opened experiential retail stores besides their traditional stores, and the number of these stores is increasing day by day. Undoubtedly, Paşabahçe is one of the most successful companies in the field of experiential retail stores in Turkey.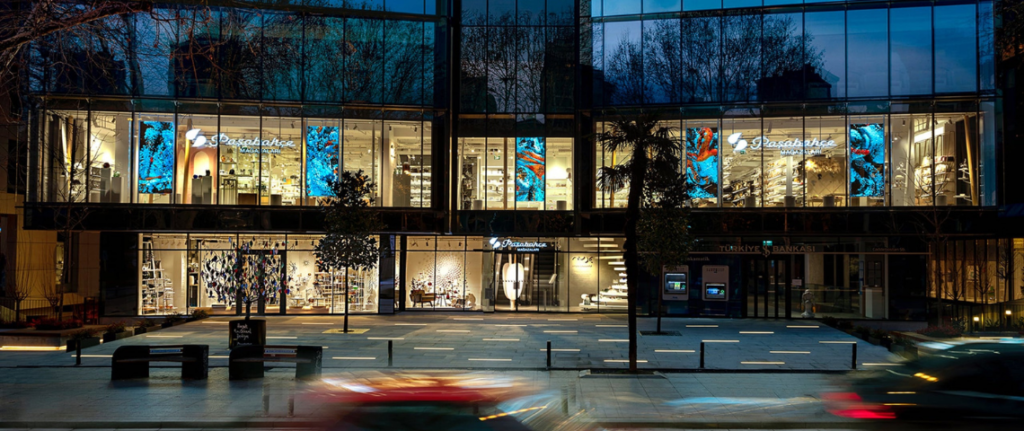 Pasabahce Experiential Stores
In 2021, Paşabahçe opened its experiential stores first in Erenköy and then in İzmir İstinye Park. In this process, as PoiLabs, we had very successful cooperation with Paşabahçe. With the services we provide to Paşabahçe experiential stores, customers can access the map of the store via the mobile application, get directions to a product or product group they want, and access their instant location on the map. In Paşabahçe experiential stores, in-store navigation has made it much more efficient for customers to navigate through the store. In experiential stores, customers can find the product they are looking for much more easily, they can easily access products and collections with the digital screens in the store and see where the products they are looking for are located in the store. In addition, Paşabahçe experiential stores, which include many possibilities such as digital payment by scanning the QR code of the products, and a gift finding wizard, brought a new breath to retailing in Turkey. It is estimated that both Paşabahçe and other retail stores will turn to experiential stores in the future.
Digitalization in Retail Stores: Experiential Stores